Let's talk about what I know you want to know about... Andy Samberg's love life!

This is old news, and I don't think it's 100% true, but it's interesting none-the-less.
July 17th, 2007:
http://www.usmagazine.com/andy_samberg_says_hes_dating_natalie_portman

"Andy Samberg says he's seeing Natalie Portman—along with every other guest host who's graced the Saturday Night Live stage!

Comedian Samberg, 28, has been reportedly linked to actress Natalie Portman, 26, since her split with actor Gael Garcia Bernal. When asked if he'd confirm the relationship Monday at NBC's presentation at the Television Critics' Association press tour, Samberg joked, "pretty much every host that comes to the show, we all sleep with, so by that measure..."

Back in May, when we first reported on the rumored couple, Samberg's Saturday Night Live co-star Kenan Thompson told Us, "If Andy is dating Natalie, I'm extremely jealous."

After today's admission, if Andy is dating Natalie, she might be extremely jealous!"

--------------

Note to US Magazine: Kenan is not a girl.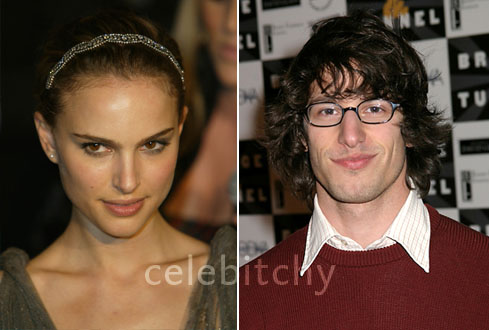 From:
http://www.celebitchy.com/4403/natalie_portman_and_andy_samberg_going_strong/
Natalie Portman and Andy Samberg met when they worked together on that famous gangster rap skit for Saturday Night Live in the spring of 2006. Then when Andy split up with Kirsten Dunst in March, he got a call from Natalie and they've been together ever since:
Sparks flew with Natalie Portman, 26, worked with Andy Samberg, 28, on a skit for Saturday Night Live last year. But the two cuties didn't hook up until March, when the newly single Star Wars star called Andy to chat. Andy had ust split up with Kirsten Dunst. The next thing you know, a source tells Star, "the two became inseparable." The couple is still going strong despite Natalie being in China for work. "The lovebirds speak every day and Andy is telling his friends that he's totally in love," says the source.
[From Star Magazine print edition, July 9, 2007]
US Weekly mentioned about [in June] that these two were dating after Portman split from her on-off relationship with Gael García Bernal. It's nice to hear that they're still doing well as they make a cute couple.
Portman was just in Rwanda this weeked, where she named a baby mountain gorilla to help bring awareness to the cause of saving the endangered species. Rwandan president Paul Kagame held a ceremony to call for protection of mountain gorillas. Portman named her gorilla "Ahazaza," or "future."
-------------------
Man, I wish I could name a baby mountain gorilla to bring awareness.
- TAE
And from US Magazine:
http://www.usmagazine.com/natalie_portman_and_andy_samberg_share_more_than_laughs
Has Natalie Portman found Saturday Night Love with funnyman Andy Samberg?
A source tells Us Weekly that the 25-year-old actress is dating the Saturday Night Live star, who has also been linked with Kirsten Dunst, 25.
Portman appeared opposite Samberg, 28, in a hilarious rap video mocking her Little Miss Perfect persona when she hosted SNL in March 2006, but she didn't begin seeing him until after she and longtime on-and-off beau Gael García Bernal, 28, recently split.
"If Andy is dating Natalie, I'm extremely jealous," Samberg's castmate, Kenan Thompson, 29, tells Us.
A Portman source has equal praise: "A nice Jewish boy would be good for her."
----------------
So all they have to do is be in skits together, then hang out, talk on the phone, and have their friends mention that it would be a good match? Then, boom, they're going out? Wow, it's so easy!!!!
Enjoy!