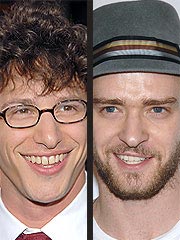 From:
http://www.people.com/people/article/0,,20049008,00.html
Saturday Night Live's Andy Samberg knows comedy – and says his "D--- In a Box" partner, Justin Timberlake, has the chops to be a comedian himself.
"He's brilliant at it, actually,"
Samberg says about Timberlake's comedic impulses.
"It's a little obnoxious. He's really good at what we do – as we are – and also really good at everything else."
Samberg, 28, and Timberlake, 26, were both recently nominated for an Emmy for their hysterical "D--- In a Box" music video, which the pair wrote and performed on SNL in December. The video became a viral sensation in no time.
In February, when Timberlake was in New York on tour, Samberg showed up to reprise their hit during Timberlake's concert at Madison Square Garden.
When he got the good news about the Emmy nod, Samberg reached out to the singer.
"We did a little texting,"
the funnyman explains.
"He was congratulatory, [but] he helped us make it so we all got nominated."
Asked if Timberlake has what it takes to be a Saturday Night Live castmember, Samberg says:
"If he decided he wanted to, he would be on in a second."
Enjoy!