Yeah, that's not true.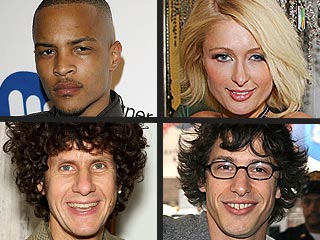 "The Beastie Boys's Mike D sits down with SNL's Andy Samberg in a new MySpace interview. And by interview we mean, the rapper teaches Samberg how to properly tipple red wine as they discuss their pasts as In Living Color castmates. Hey, it was good enough for J. Lo!"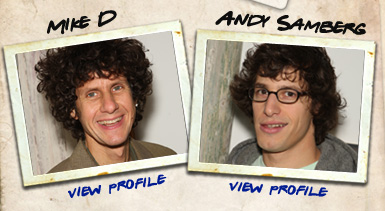 From:
http://www.myspace.com/artistonartist
"Despite their questionable claims of having met on the set of "In Living Color," it's clear Beastie Boys founder Mike D and "SNL" player Andy Samberg are good friends and having a lot of laughs in this exclusive MySpace Artist on Artist interview. Known for his expertise in history, art and literature, Mike D teaches Samberg how to properly taste a glass of red wine and details Chris Rock's most unforgettable cameo."
Artist on Artist: Mike D and Andy Samberg
"Everybody likes to laugh, but a lot of people don't like to bone what makes them laugh." -Andy Samberg
This Hot Rod page is Andy's only official MySpace page, so they linked to it:
http://www.myspace.com/hotrodmovie
Enjoy!