I guess dating doesn't count about whether or not someone is a bachelor, because Andy's going out with Joanna Newsom. I thought Kiv was also dating a girl.
Regardless...
Single & Sexy Men of 2008
#9: ANDY & AKIVA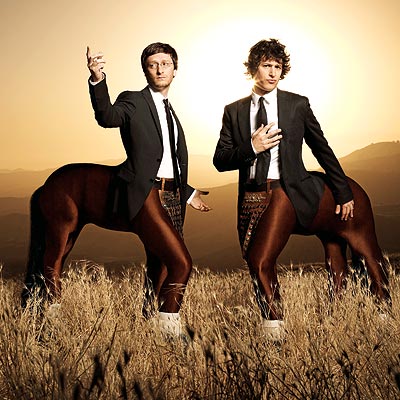 The Saturday Night Live star and SNL writer first met at their Berkeley, Calif., middle school. Since then, they've fine-tuned their pickup act. "We get a giant trench coat, and one gets on the other one's shoulders, so we're like a giant," says Samberg, 29. Explains Schaffer, 30: "We're into really tall girls."
From:
http://www.people.com/people/package/gallery/0,,20205861_20207326_9,00.html
I love the centaur thing. Almost as random as Andy showing up as a viking in the Natalie Portman rap.
Nice Princess Bride joke. Too bad everyone's seen that movie. Andy, we know where you get your jokes from!!!! (Um, old Rob Reiner films I guess.)
Getting #9 is quite an accomplishment... until you realize that he got beat out by a bald tennis player, that 300 guy, Britney's older brother, Iron Man's friend, and A.C. Slater. What did they do, roll the dice?
Enjoy!
- TAE