Andy Samberg is starring in his first animation this year,
Space Chimps
(with his second animation,
Cloudy with a Side of Meatballs
coming next year).
So how will Space Chimps stack up to this year's animations?
First and foremost, the trailer looks pretty funny, so it seems to have a decent chance. However, this is not the best year to be releasing an animation like this. The competition is fierce. Not only do you have what is arguably the best Pixar film (Wall-E), but you also have a pair of heavy hitters from DreamWorks, a Star Wars animation, a valid attempt from Disney, and a secret weapon from Universal Studios.
1. Dr. Seuss' Horton Hears a Who
Date: March 14, 2008
Studio: Fox/Blue Sky
Starring: Jim Carrey, Steve Carrell
Domestic Totals: $153,948,010
Worldwide Totals: $294,480,506
Notes: From the studio of Ice Age and Robots.
2. Kung Fu Panda
Date: June 6, 2008
Studio: Paramount/DreamWorks
Starring: Jack Black, Dustin Hoffman, Jackie Chan, Angelina Jolie, Lucy Liu
Current Domestic Totals: $184,023,000
Current Worldwide Totals: $285,781,156
Notes:
- Taking over Madagascar as the #2 DreamWorks franchise, behind Shrek. It made more than Shrek or Madagascar on its opening day (60 million versus 40-42 million).
- A sequel is planned, possibly for 2011.
3. Wall-E
Date: June 27, 2008
Studio: Disney/Pixar
Writer/Director: Andrew Stanton
Starring: Fred Willard
Current Domestic Totals: $86,311,330
Current Worldwide Totals: $89,470,409
Notes:
- Written by Pete Doctor (Monsters Inc.) and Andrew Stanton (Finding Nemo) and directed by Andrew Stanton (Finding Nemo).
- This is a roller coaster of emotions. Picture the emotions of Finding Nemo but add more to it and replace the silly humor with clever humor.
- I suspect that this is the Academy Award Winner for Best Animated Film of 2008, which would be Stanton's second Oscar (after Finding Nemo; this would also tie him with Brad Bird, who currently has two of these Oscars for Ratatouille and Incredibles).
4. Space Chimps
Date: July 18, 2008
Studio: Fox/Vanguard
Starring: Andy Samberg, Patrick Warburton, Jeff Daniels
Notes: Vanguard hasn't done well with their first two animated films (Valiant and Happily Never After).
5. Star Wars: Clone Wars
Date: August 15, 2008
Studio: Warner Bros./Lucasfilm Animation
Starring: Samuel L. Jackson, Christopher Lee
Notes: Surprisingly poor animation, facial animation, lighting, textures, and animated hair quality, especially since coming from the company that's behind all the CG amazingness in movies today (namely through ILM).
6. Madagascar: Escape 2 Africa
Date: November 7, 2008
Studio: Paramount/DreamWorks
Starring: Ben Stiller, Chris Rock, David Schwimmer, Jada Pinkett-Smith, Sacha Baron Cohen
Notes: Madagascar was originally a steal off Disney. Occasionally DreamWorks hears the press releases from Disney and then steals the idea and tries to get their version out first, to make it look like Disney is copying. They did it with Antz (before Bug's Life), Madagascar (off of The Wild), and Flushed Away (came in to beat out Ratatouille to the market). Some say that they were inspired to do Shrek when thinking of monsters, to try to beat Monster's Inc., but there's a good chance that's just a coincidence.
7. Bolt
Date: November 26, 2008
Studio: Disney
Starring: John Travolta, Miley Cyrus
Notes:
- First, I'd like to say that this trailer was a lot more interesting before they revealed that he was actually an dog acting like a cybernetic hero. Having the dog actually be the cybernetic hero (ala Incredibles) would have been a much better story (IMO).
- Second, the story for thi movie was written by Chris Sanders (writer and director of Lilo & Stitch). Sanders was directing this movie. However, when Lassetter took over Disney, he threw out most of Sanders' work, and Sanders walked out and joined DreamWorks (now working on Crood Awakening, a caveman animation that DreamWorks pulled from Aardman (due to their poor sales of Wallace & Grommit and Flushed Away) and gave it to Sanders to do in-house at DreamWorks). The Bolt project was then given to two writers and story artists on the project. Lassetter often has the writers and story artists direct the animations, since they often have the strongest vision of the project.
8. The Tale of Despereaux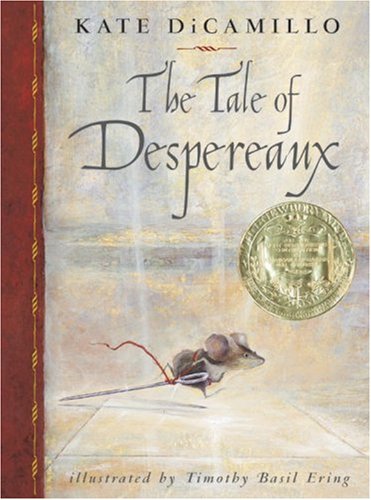 Date: December 19, 2008
Studio: Universal Studios/Framestore
Starring: Matthew Broderick, Dustin Hoffman, Emma Watson, Sigourney Weaver, William H. Macy, Stanley Tucci, Kevin Kline, Christopher Lloyd, Tracey Ullman
Notes:
- A new animation studio was formed for this production.
- The director, Sam Fell, is fresh off of Flushed Away. What's interesting is that this is another Mouse movie (like Flushed Away and Ratatouille), from the director of Flushed Away, but the art style is nothing like Flushed Away at all. Flushed Away uses the Nick Park/Aardman style, while the style of Despereaux is clearly similar to Pixar's style for the humans, and similar to Pixar for the animals as well (but they clearly try to go one more step toward realistic animals). The result will be a beautiful movie that tells a beautiful story.
- The primary negative aspect is the name. They should have changed the name; it's too hard to remember IMO, and it doesn't describe the story.
- So this is Universal's secret weapon. Universal has been silent in the battle of 3D animation films (while Sony, WB, Paramount, DW, Weinstein, Fox, and Disney have all been active), except for distributing Veggie Tales 2 earlier this year (I didn't bother including it on this list). So I guess they were waiting for a big gun, and they finally found one.
Enjoy!
- TAE