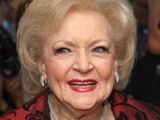 Betty White boosts 'Saturday Night Live'
The 88-year-old TV legend attracted a 5.1 rating with adults 18-49 between 11.30pm and 1am, the show's highest figures since November 2008.
Read the specifics here:
http://www.digitalspy.com/ustv/news/a218986/betty-white-boosts-saturday-night-live.html
===========================
What brought high rates in Nov 08? Not sure, but here were the episodes...
11.01.2008 - Ben Affleck, David Cook
11.15.2008 - Paul Rudd, Beyonce, and the infamous Single Ladies skit with Justin Timberlake
11.22.2008 - Tim McGraw, Ludacris, T-Pain
Enjoy!