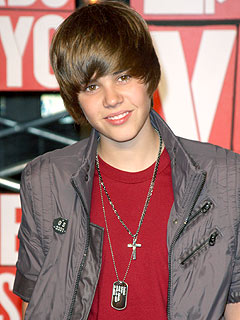 How did Justin Bieber fare on Saturday Night Live last weekend? According to the show's stars, the young singer – and PEOPLE's recent cover boy – is a natural comedian.
"That guy is a force of nature," head writer – and Weekend Update anchor – Seth Meyers told PEOPLE at "An Evening with Saturday Night Live," presented by the Academy of Television Arts & Sciences in New York. "He was really focused on doing a good job. We saw [during rehearsals] that he'd be able to handle a lot."
Bieber – who performed as a musical guest and also appeared in a sketch in which host Tina Fey played a teacher who lusts after her young student – showed his considerable comic chops, impressing executive producer Lorne Michaels who called him a "complete pro."
Said Michaels: "How cool was he? Whatever we threw at him – particularly that teacher's sketch – they were changing it right up to air and they'd go right into his dressing room, tell him the changes and he'd hit them."
And Michaels wasn't the only one impressed with the teenage pop sensation. SNL castmates Bill Hader, and Kenan Thompson also got caught up in Bieber-mania.
"He's a confident kid," says Hader. "That guy definitely doesn't hold back, which I was really impressed with. If I was as confident at that age, my life would've been a lot easier."
Thompson told PEOPLE he immediately bonded with Bieber over their Atlanta connection.
"He was talking to me about Atlanta because I'm from Atlanta and he lives there," Thompson said. "He asked, 'You know how to do the Atlanta handshake?' And I'm like, 'Yeah, yeah, yeah, that's cool.' "
"He's a ball of energy," the comedian continued. "He's a cool young 16-year-old kid who is on top of the world."
How did Bieber land the prime spot on the show in the first place?
Said Michaels: "I have a 12-year-old daughter. First you see the poster go up [in her room] and you start to pay attention after that."
From:
http://www.people.com/people/article/0,,20360442,00.html
Enjoy!