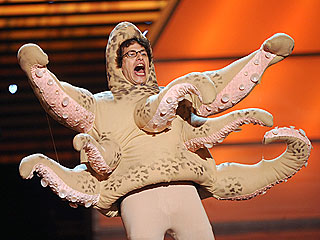 Celebrities know they've made it big when they're mocked by a Saturday Night Live cast member, and Paul the Psychic Octopus was no exception.
Andy Samberg, who dressed up as an octopus and portrayed Paul as a boozy, cocky creature on the ESPY Awards, says it was his growing fame that contributed to Paul's demise this week.
"I'm greatly saddened by this news, but must quote Paul himself when he said, 'Mo' Money, Mo' Problems,'" a deadpan Samberg, who is an SNL cast member, tells PEOPLE. "In this case, the 'problem' is death."
Samberg, however, points out: "To be fair, he predicted it would happen. R.I.P."
Paul gained global fame during this summer's World Cup soccer tournament when he maintained a perfect record in correctly predicting all of Germany's results before picking Spain to beat Netherlands in the final. He died Monday at the Oberhausen Sea Life Centre in Germany.
From People:
http://www.people.com/people/article/0,,20437088,00.html
Andy Samberg as Paul the Octopus at the 2010 ESPN ESPY Awards Show:
Thanks to Becky F. for the scoop! You rock your socks!
Enjoy!