Andy Samberg Campaigning For Rahm Emanuel In Chicago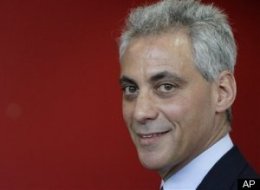 Andy Samberg of "Saturday Night Live" will be in Chicago Friday--headlining a fundraiser for the man he impersonates quite well.
Politics Daily reports that Samberg will headline a $50-per-person fundraiser for Emanuel Friday. The event will be held at the Paris Club in River North.
Samberg's endorsement comes as former President Bill Clinton headlines a $5,000-per-ticket fundraiser for Emanuel at the Chicago Cultural Center Tuesday, and just one week after Grammy-winning singer and actress Jennifer Hudson performed at a House of Blues fundraiser for the candidate.
Emanuel is already considered the front-runner in the Feb. 22 mayoral primary, as several polls have shown him with a considerable lead. He must receive at least 50 percent of the vote to win outright, or a runoff will be held in April.
WATCH a particularly hilarious Rahm impersonation by Samberg here:
From:
http://www.huffingtonpost.com/2011/01/18/andy-samberg-campaigning-_n_810374.html?ir=Comedy
=============
Thanks to Anony for the scoop!
This is great of Andy! Reportedly, Andy was invited to the White House to meet Rahm. Actually, Andy did an interview before that where he wondered if he'd get invited (knowing that past SNL cast members have been invited when doing impersonations). And then he got invited after that (maybe the interview gave Rahm the idea).
Regardless, they're obviously friends now, and this is a great opportunity for Andy to support Rahm and to get his name out there more.
Enjoy!