Click here to download and listen (she talks about Three-Way at about 8:30):
http://a1135.g.akamai.net/f/1135/18227/1h/cchannel.download.akamai.com/18227/podcast/DETROIT-MI/IMOJ-FL/mojo_lady-gaga_20110523.mp3?CPROG=PCAST&MARKET=DETROIT-MI&NG_FORMAT=&SITE_ID=4449&STATION_ID=IMOJ-FL&PCAST_AUTHOR=Mojo_In_The_Morning&PCAST_CAT=Comedy&PCAST_TITLE=Mojo_In_The_Morning_-_iHeart_Radio
So they were a little embarassed explaining the skit to Lady Gaga.
Thanks to Freya for the scoop!
And now here are all the photos we can find with both Andy Samberg and Lady Gaga in them...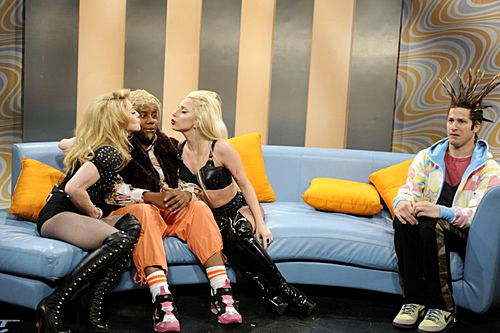 And here's the video again (maybe you can watch it on mute while you listen to the radio call):
Enjoy!