Andy Samberg has a cameo as a druggie in Nick and Norah's Infinite Playlist.
That's what Anonymous told us. It's strange that Wikipedia and IMDB don't mention this.
So we looked around and here's what we found...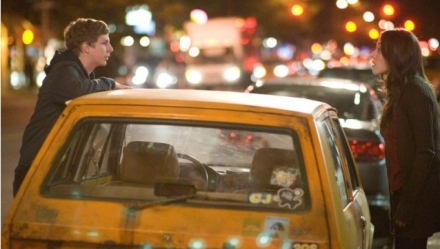 "Oh, and did I mention there is a small cameo by SNL's Andy Samberg."
From:
http://www.slashfilm.com/2008/09/05/tiff-review-nick-and-norahs-infinite-playlist/
Hollywood.com lists him:
Andy Samberg - Homeless Man
From:
http://www.hollywood.com/movie/Nick_and_Noras_Infinite_Playlist/3463984
Babubhaut from buffalo...
"Andy Samberg, (a riot as a homeless man Cera's Nick stumbles upon at a church around 3am). Sollett spoke of Samberg's willingness to improv and the multiple takes filmed. His favorite alternate take was hilarious and probably better than what was used, but this is a film trying to get a PG-13 rating, so all you out there will have to wait for the DVD to hopefully see a gag reel. I really hope it gets on there because I'd love to see Cera's reaction to the raunchy exchange."
From:
http://www.imdb.com/title/tt0981227/usercomments
With co-stars including fellow Canuck Jay Baruchel, cameos from "Saturday Night Live" stars Seth Meyers and Andy Samberg and a soundtrack packed with indie acts, the film is sure to please many teens and fans of sweet and smart romantic comedies.
From:
http://www.canadaeast.com/entertainment/article/407447