Check out the bold parts:
Blake Lively and Penn Badgley, sharing a little
post-Saturday Night Live
date during an
afterparty for the show at Ruby Foo's in New York's Times Square.
Lively arrived first, followed by her beau, a bit later. When he arrived, the Gossip Girl star traipsed around the restaurant looking like a lost puppy when at first he couldn't find her. Ultimately they were reunited and sat next to each other, knees touching, at the same dinner table, where they sampled the dim sum. Meanwhile, the show's host, Michael Phelps has his own date for the night – his mom, Debbie! The Olympian also mingled with friends and signed plenty of autographs.
And SNL star Andy Samberg spent time with his musician girlfriend Joanna Newsom at the party.
And Justin Timerlake is dating Jessica Biel: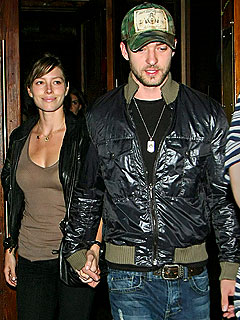 From:
http://www.people.com/people/article/0,,20225448,00.html
Isn't there a law against dating Cameron Diaz and Jessica Biel?
- TAE