If you watched this weekend's SNL — featuring Democrat host Ben Affleck and GOP presidential candidate John McCain — all the way to the end, then you would have noticed at the traditional "goodbyes" were longer than usual, with more time to spy on the cast and guests milling around the stage, hugging and back-slapping and the like.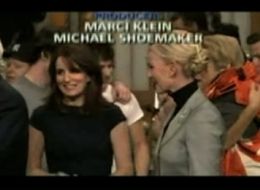 This week, however, seemed a tad more...awkward. It seemed — to this viewer, at least — that the handshake between Affleck and McCain was, well, awkward (and a little long, as McCain kept pumping enthusiastically away). Meanwhile, Tina Fey moved to Cindy McCain (having hugged her husband first) and gave her a nice two-handed clasp, leaning in for a word, but then there was a moment of...well, awkwardness, as conversation awkwardly dried up and Fey looked out and waved to the audience as Cindy stood by — yes — awkwardly. Meanwhile, after McCain finally let go of Affleck's hand, he turned back to the rest of the cast, to see who was next in line for hugs...and sorta had to wait for someone to turn to him. (Usually hosts and guests are mobbed by castmembers waiting for their big huge hug.) After Fred Armisen passed in front of McCain en route to someone else, so McCain turned to Bill Hader and Andy Samberg — if you look carefully, you'll see Darrell Hammond, who usually plays McCain, hiding out waaay in the back in a baseball cap.
Here's the video — see what you think:
From:
http://www.huffingtonpost.com/2008/11/03/snls-awkward-goodbyes_n_140410.html
I think the writer might be reading into it too much, but there was a bit of awkwardness, especially after Tina and Cindy shook hands.
Enjoy!

More from the article...
One more thing: For the rec, I think that McCain was great on SNL, and it was a real and genuine treat to see Cindy. For those who were surprised that McCain allowed some of those jokes in there... Lawrence O'Donnell... said that he had spoken with longtime SNL writer Jim Downey who said that the writers had all been surprised that McCain went for the sketch, and that they'd been fully expecting him to reject the jokes. O'Donnell also said that Downey said that Republicans were usually a lot more easygoing and less picky about the material they're giving, that Dems are more fussy about vetting the jokes.