Back when he played football for the University of Miami Hurricanes, Finesse Mitchell was a friend and teammate of one Dwayne Johnson. Neither thought much of the other's non-gridiron prospects.
"He was very quiet," standup comic Mitchell says of the man who would become known as wrestling's The Rock. "He was quiet in the locker room, he was quiet walking around campus. He was dating a friend of mine, and everyone just described him as quiet.
"Our senior year, it became, 'What are we gonna do with our lives?' I remember I was at the barber shop with him, and I'd been kicked off the team 'cause of grades, and he had injury problems and (future NFLer) Warren Sapp had become the dominant force on defence ahead of Dwayne.
"So he said he was going to Canada to play football, and if that didn't pan out, he was going to go into wrestling. I said that was the dumbest thing I ever heard. I said I might do comedy. And he said, 'Comedy? You're not funny! That's the dumbest thing I ever heard.' "
Years later, they ran into each other at a party -- Johnson (who had briefly been a Calgary Stampeder) had just released The Scorpion King, and Mitchell had just joined Saturday Night Live.
"We just laughed and said, 'Congratulations!' " recalls Mitchell, who hosts the cross country Just For Laughs Comedy Tour, which hits the EPCOR Centre's Jack Singer Concert Hall tonight with Irish comics Danny Bhoy and David O'Doherty, Brit comic Hal Cruttenden and Canuck Pete Zedlacher.
Not that it was all clear-sailing at NBC for Mitchell. SNL had its ups and downs for the comedian, who was in the cast for three seasons, but was cut loose along with Horatio Sanz and Chris Parnell when the network slashed the show's budget.
"I think a lot of African-Americans, especially males, go in with ambitions and dreams of being Eddie Murphy and shining the way he did. When I got there, I got things that were very topical. Kobe Bryant had just cheated on his wife. Andre 3000 had the hottest song in the country, there was O.J., and I was doing this ghetto girl character Starkisha. So character-after-character in my first year, it seemed like just the most awesome place to work.
"And then the honeymoon's over, and it became more of a dogfight getting your sketch in. The more prominent players, the Amy Poehlers, the Rachel Dratches and Maya Rudolphs, y'know, everybody wanted their stage time.
Then the new guys -- Andy Samberg, Kristen Wiig, Bill Hader and Jason Sudeikis -- they came in with such strong characters and it got even harder."
With his departure from the show came another realization. He had to recapture his standup audience because "the homeys don't watch Saturday Night Live. I had lost a lot of my audience. I'd had a big huge BET (Black Entertainment Television) following, a popular guy on colleges. And when I got Saturday Night Live, I got snatched out of the black market and into the mainstream market. So people would hear through the grapevine, 'He's on SNL' and they'd be like, 'What? That show's still on?' "
Happily, Mitchell became busy in a hurry, re-amping his standup career, appearing in movies (The Comebacks, Mad Money, Who's Your Caddy?) and writing a relationship book for women -- Your Girlfriends Only Know So Much (from the publishers of He's Just Not That Into You) -- that led to a regular column in Essence magazine of male advice for women.
"Now I do a lot of daytime television talking about relationships," says Mitchell, who got married last month. "I'm doing the Today show all the time. I'm on the CBS Morning Show, I'll be on Tyra Banks. I'm also speaking at a women's conference for Essence magazine in front of 1,000 women."
From:
http://calsun.canoe.ca/Showbiz/2008/11/08/7346921-sun.html
----------------
Finesse is just complaining. I was glad when they took him out of SNL. Yeah, it's hard work, and you have to try to keep selling your characters, and you have to earn your stripes on SNL. But if you do it right, then you should have staying power and precedence over the newbies rather than being taken over by them.
Don't get me wrong, Finesse is a hilarious stand-up comedian. But acting isn't what Finesse does well. He doesn't do great characters like Eddie Murphy and the others. And Andy mostly just plays himself in hilarious videos. He doesn't have major characters like Will Ferrell did.
The second value of Andy Samberg is the little impressions he does. SNL obviously pushes the impressions to hit the news and politics (like Finesse mentioned). So if you don't come up with original characters and make fun of old film or stories, then they won't push you to do that. You've got to push it yourself.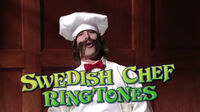 So Andy, along with the rest of the staff, was pushed to do impressions rather than characters. And so Andy has really stepped up in that area, offering us Jack Johnson, the Swedish Chef, Cathy (from the comics), the Naked Guy on a Cell Phone, the Pregnant Man, Sanjaya, Diablo Cody, and Mark Whalberg.
- TAE