What with Rachel Dratch and Tina Fey having left... then Maya Rudolph... and now Amy Poehler... SNL has been finding the funny females, starting with Casey Wilson (she hasn't made me laugh yet, though). Add another two ladies, including the daughter of SNL alumni, Chris Elliott!!! That puts the lady count back up to four, with Kristen, Casey, Michaela, and Abby.
Michaela (37) is on the left, and Abby (21) is on the right: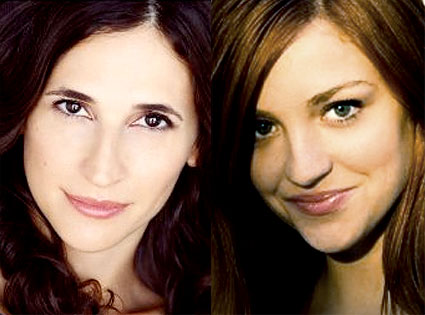 Abby logged time in Upright Citizen's Brigade (Amy Poehler, Bobby Moynihan), and Michaela is an alumni from the Groundlings (Will Ferrell, Phil Hartman, Kristen Wiig).
On November 15, 2008, SNL added two new featured players. Let's take a look-see...
Michaela Watkins
Bigger image:
http://www.imdb.com/media/rm2283836416/nm1143861
Michaela Suzanne Watkins (born December 14, 1971) is an American actress, perhaps most known for her various comedic roles in the Groundlings Company (Los Angeles); and as the role of "Lucy" in the 4th season of The New Adventures of Old Christine. In November 15, 2008, she became the newest member of Saturday Night Live cast with Abby Elliott. Other guest star appearances include: Eli Stone, Californication, Grey's Anatomy, Without A Trace, Malcolm in the Middle, Charmed, Medium, and others.
Watkins was born in Syracuse, New York, the youngest of three daughters, to Myrna (née Seidband) and Mark Watkins, a Mathematics Professor at Syracuse University. Michaela is a graduate of Boston University, where she studied theater and acting. Watkins has been active in Los Angeles Theatre for many years, taking on roles with Circle X Theatre and 2100 Square Feet.
Starting on November 15, 2008, she became a featured cast member on Saturday Night Live.
Abby Elliott
Bigger image:
http://www.imdb.com/media/rm1933546496/nm2212031
Abby Elliott (born June 16, 1987) is an American actress and comedian who currently is a featured player on Saturday Night Live. She is the third generation of her family to have been featured on the show; her father is actor and comedian Chris Elliott who was also briefly an SNL cast member and her grandfather is Bob Elliott of the popular comedy duo Bob & Ray who co-starred in a SNL special in 1979. She also has been on King of The Hill.
She's only 21 years old!!
'SNL' taps Abby Elliott, Michaela Watkins
After a months-long casting process, Abby Elliott and Michaela Watkins have been tapped as featured players on NBC's late-night sketch comedy "Saturday Night Live."
Debuting on this week's edition, the two are expected to at least partly fill the void left by the recent departure of Amy Poehler.
Elliott is a second generation "SNL" player. Her dad, actor Chris Elliott, was on the show during the 1994-95 season.
Upright Citizens Brigate/Groundlings performer Abby Elliott is repped by Innovative and manager Tom Demko.
Watkins, also of The Groundlings, recurs on CBS" "The New Adventures of Old Christine" this season. She is repped by APA and Flutie Entertainment.
From:
http://www.hollywoodreporter.com/hr/content_display/news/e3i85a08b80d9eabe09f7aa1557f2fbbd77
---------------------------
So will either of these lovely ladies play well with Andy? Newcomer Bobby Moynihan already seems to be hitting it off with Andy. Let's see what the future holds!!!
Enjoy!