'I Hate You Dad': Susan Sarandon In Talks For Adam Sandler Comedy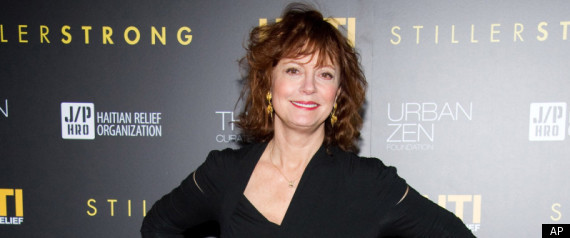 Sarandon has indeed signed on for the part, and her daughter, Eva Amurri, will also appear in the movie. James Caan has been added to the cast, as well.
Making a film that requires a cougar sleeping with a younger man? There's only one true name to call.
According to The Hollywood Reporter, Susan Sarandon is set to join the Adam Sandler/Andy Samberg comedy, "I Hate You Dad." The film, about dad Sandler moving into son Samberg's home and starting a rivalry with his fiancee, already has an eclectic cast: Leighton Meester will play the bride-to-be, while Ian Ziering and Vanilla Ice will play significant roles -- as themselves. Ice will be, in the film, a long time friend of Sandler's character.
As for Sarandon, she'd play a sexy teacher with a significant connection to Samberg and Sandler. Vanilla Ice told the Huffington Post that Sarandon's character slept with Sandler's character when he was 13 years old, with Samberg as the embarrassed progeny.
James Caan, Will Forte and Milo Ventimiglia are in talks to join the cast --
Sarandon, of course, played a sexy older woman in "Bull Durham," starting her trend of taking on that role. Perhaps it's art imitating life; Sarandon is rumored to be dating much younger business partner Jonathan Bricklin.
She's had a busy past few years; by the end of 2011, she'll have been in 18 movies since 2006. She'll soon star in the big screen adaptation of "Cloud Atlas," as well as take on a supporting role in "Gently Down The Stream," another film about young lovers and their obnoxious parents. She's also due to top line the drama "Hemlock Drive" alongside Adam Brody and David Arquette.
Click here for more on Susan Sarandon:
http://www.huffingtonpost.com/2011/06/01/i-hate-you-dad-susan-sarandon_n_869905.html
==========
From this article we get confirmation that Will Forte is in the film (since we already saw him on set), and we see that Vanilla Ice and Ian Ziering will be playing themselves. It's kind of cool that Vanilla Ice will play himself and be a major character. That doesn't happen very often (Being John Malkovich is the only one I can think of right now).
Of course, Susan Sarandon has also appeared in two Andy Samberg shorts... Mother Lover in a major role and Golden Rule (Three Way) as a cameo.
Enjoy!