Meet Land of the Lost's Jorma Taccone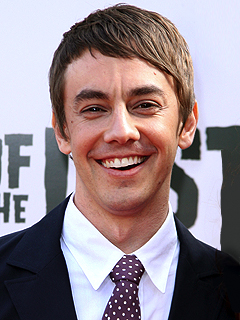 He's one-third of the mastermind behind Saturday Night Live's popular digital shorts "D--- in a Box," "J--- in My Pants" and "Lazy Sunday." But Jorma Taccone's latest project got him out of the studio and away from his producing partners – and childhood friends – Andy Samberg and Akiva Schaffer.
In Land of the Lost, the 32-year-old Berkeley, Calif., native suits up as the mischievous but loveable monkey-like creature, Chaka, alongside Will Ferrell and Anna Friel. Here are five things you may not know about the writer-producer-director-actor:
He had never seen the original Land of the Lost:
"I grew up in Berkeley and my parents were hippies, obviously, since my name's Jorma. I didn't watch much television growing up because they weren't into it at all. But I watched almost every episode after I got this part. It's awesome!"
Playing a half monkey/half human can be painful:
"Chaka's constantly squatting, and with me not having done anything physical for like 17 years, I had to get a cortisone shot in my butt because I could barely move afterward."
He's been best buddies with Andy and Akiva for almost 20 years:
"I met Akiva in Spanish class during junior high school and then Andy the next year. I came to L.A. ... and we got an apartment and just started making music and short films. It's not really that different from what we do today. We're not drunk now; that's the only difference."
Those popular digital shorts are products of procrastination:
"How do we come up with them? Out of pure frustration. We came up with "D--- in a Box" on Thursday, recorded it that night into Friday morning and wrapped up everything within 48 hours. For "Mother Lover" we thought of the idea on Tuesday and said, 'Oh! We're going to get this done early this time!' But that never happened."
He's done some pretty odd jobs for money:
"Akiva and I ripped like 4,000 tortillas into bits for a movie called Tortilla Heaven. At the end of the film tortillas rain from the sky and fall down. That was all us. We helped with that!"
From:
http://www.people.com/people/article/0,,20284222,00.html
==================================================
It's good to see another TLI member get some media love!
Thanks Anony!
Enjoy!