Language of 'Saturday Night Live' Cast Member Isn't Ready for Prime Time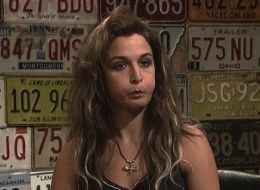 No matter how Jenny Slate's tenure at "Saturday Night Live" turns out, at least she can say she made a memorable debut.
In a sketch that aired well past midnight on the season premiere of "SNL," Ms. Slate, a newly hired featured performer, accidentally let slip a word that isn't supposed to be uttered on network television during most hours of the day. (On this family-oriented blog, we can't specify which one, but suffice to say it is one of George Carlin's notorious seven words.)
At about 12:42 am on Sunday morning, Ms. Slate appeared in a comedy skit called "Biker Chick Chat," a satirical talk show in which she played a hard-living motorcycle mama who interviews similarly tough-talking ladies on her program. The skit made frequent use of some not-so-nasty words to stand in for their vulgar counterparts, making a slip of the tongue distinctly possible if not inevitable.
When one of the program's guests, played by Kristen Wiig, threw an ashtray at Ms. Slate, she (approximately) responded: "You know what? You stood up for yourself, and I [expletive] love you for that." (A clip of Ms. Slate's performance can be seen here at the Huffington Post. If it's not already clear, this clip contains an obscenity.)
Before the camera cut away, Ms. Slate puffed up her cheeks in apparent realization at what she had said, and a few audience members could be heard tittering, but the sketch continued without interruption or further incident.
In the 35-year history of "Saturday Night Live," obscenities have been rare on the show. In 1981, the cast member Charles Rocket used a swear word during a parody of "Dallas," an episode that dogged him for the rest of his career. In 1995, Cheri Oteri accidentally used a vulgar word during a sketch; when she appeared onstage at the end of that broadcast, she put a dollar in a swear jar, and the incident was quickly forgotten.
A spokeswoman for NBC's East Coast Entertainment division said the network would have no comment on Ms. Slate's utterance.
In April, the Supreme Court found in favor of the Federal Communications Commission, overturning a lower court's ruling that the F.C.C. could not punish television networks for broadcasting fleeting expletives between 6 a.m. and 10 p.m.
From:
http://artsbeat.blogs.nytimes.com/2009/09/27/language-of-saturday-night-live-cast-member-isnt-ready-for-prime-time/?hp
=====================
Jenny Slate
, you should immediately apologize to the execs and get on SNL and put a dollar in the swear jar (maybe in the goodbyes of the next show).
Here is Jenny Slate's curse flub (
WARNING: Language
):
http://www.huffingtonpost.com/2009/09/27/snl-premiere-f-bomb-video_n_301081.html
Jenny puffs her cheeks to show that she knew she messed up pretty big. Kristen Wiig dismisses it like a true champ. Here are some temporary versions:
Enjoy!