Sloppy weather meant fewer famous names roaming the grounds Saturday at the National Tennis Center, but Ben Stiller, wife Christine Taylor and
"SNL's" Andy Samberg
braved the drizzle for the early action pitting Rafa against Fernando Gonzalez.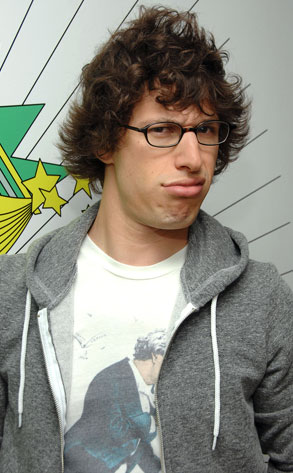 "
I have a spectator's interest in tennis, because my mom played when I was growing up
," Samberg told us, from the dry confines of the Heineken Suite on Club Level, and that's "dry" in strictly the meterological sense. For
Samberg, SNL's Master of Digital Shorts
, it was the
first-ever trip to the tennis center
.
"Weekend Update" admirers were glad to learn recently that "SNL" plans more Thursday night editions of the recurring sketch. We asked Samberg if an extra "Update" would work without Sarah Palin to kick around anymore.
"
We're gonna find out
," he said, adding: "
Sarah Palin's actually going to co-anchor with Seth
."
With Amy Poehler enjoying full-time mommy-hood, we've sort of been wondering if anyone ever will partner with Seth Meyers, or if he'll handle "Update" duties solo.
"
That's still undetermined
," Samberg said. [Verified by Seth that he will continue solo this year.] "
But Amy may swing by to help with the Thursday 'Updates.' She comes and hangs out anyway
."
SNL's 35th season, with host Megan Fox and musical guest U2, premieres on Sept. 26.
From:
http://www.newsday.com/news/new-york/update-from-the-u-s-open-samberg-speaks-court-side-1.1442236
Enjoy!